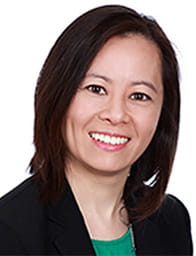 Debbie Wong, CPA, CA, CRPC®
Vice President, Tax Consulting, Private Client Group, Raymond James Ltd.
Debbie joined the investment services business after deciding to focus her time on helping people with their tax concerns through value-added services rather than through a fee-for service model utilized in public practice.
As part of our team of private wealth professionals, Debbie works with our financial advisors to guide their high net worth clients towards practical solutions to their tax issues. She has expertise in Canadian and U.S. personal tax, specific issues affecting U.S. citizens or Green Card holders, and cross-border tax (immigration and emigration). Debbie joined Raymond James in 2004 as the Tax Manager in Operations and then transferred to Private Client Solutions in 2013.
Prior to joining Raymond James, Debbie gained ten years of experience working in public practice as an expatriate tax manager at a major international accounting firm and articled at an accounting firm handling financial reporting and tax compliance for small business families. Debbie obtained her chartered accountancy designation (CA, CPA) in 1998. She also earned the U.S. Chartered Retirement Planning Counselor designation (CRPC®) in 2018 to expand her perspective on the unique planning needs of our cross-border clients.
In her free time, she enjoys relaxing and travelling with her husband, and taking a particular interest in nutrition and fitness methods to age backwards.
Jason Castelli, CFA
Vice President, Head of Investment Strategy
Jason Castelli has over 16 years of experience in the banking and retail brokerage businesses. Prior to joining Raymond James Ltd. in March 2015, Jason spent five years at CIBC Wood Gundy as Senior Manager, U.S. Equities and Canadian Preferred Share Specialist. Jason was a key member of CIBC Wood Gundy's Investment Strategy Committee which oversaw assets of over $400 million across multiple fee-based platforms. In addition, Jason spent 10 years at HSBC Securities covering North American and international securities. Jason is responsible for providing market insights and investment recommendations. Jason holds the CFA designation and is a registered portfolio manager.